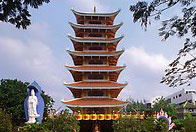 Halfday Cu Chi tunnels, Halfday Saigon
Duration: 01 Day
Depart From:
Ho Chi Minh
- Stop Off :
Ho Chi Minh
North of the city is the large district of Cu Chi, much of which was totally devastated during the American War in a vain attempt to eliminate the guerillas living in tunnels beneath the ground. Today the vegetation and agriculture has returned and there are fascinating tours offered of some of the Cu Chi Tunnels that have been preserved. Continue north and you will arrive at the town of Tay Ninh and the very interesting Cao Dai Temple, home to the religion of the All-Seeing Eye and its colorful daily ceremonies.
Price
From 735.000 VND(Group 15 pax up)
(1USD = 21.000 VND)
Drive from your hotel to Hoc Mon District to visit the Cu Chi Tunnels, which is 70 kilometers North West of down town Ho Chi Minh City. The Cu Chi Tunnel system had been created long time back, from 1948 to assist Viet Minh in the combat with French. And it was continuing built over 25 years later. It was an underground city with living areas, kitchens, storage, weapons factories, field hospitals, command centers. In places, it was housed up to 10,000 people who virtually lived underground for years.... getting married, giving birth. During the American War the entire area of Cu Chi was designated a free fire zone and was heavily bombarded. From 1988, two sections of tunnels have been open for visitors. Be back at your hotel after 4 hours travel & visit
Continue to visit Thien Hau pagoda, Notre Dame Cathedral, Former Presidetial Palace, War Musem and Ben Thanh market
Drop off at your hotel
Tour Inclusion
-Transportation
-Mineral water and wet wipe
-Private English speaking guide
-Entrance fees
Tour Exclusion
-Meals, Tip.