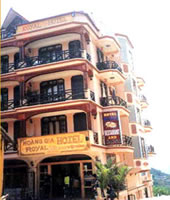 ROYAL HOTEL
Star :

Address :
Cau May road - Sapa town - Lao Cai Province - Vietnam
Royal Hotel is located at the end of the Cau May road in Sapa, just 100m to Sapa market and 200 m to Sapa Church. About 20 minutes walking to Cat Cat village and 10 minutes to Ham Rong Moutain. For greater distances, guests may take a Russian jeep to Silver waterfall (a 20 minute drive) and 1 hour from Lao Cai train station (40 km).
The Royal Hotel gives the most comfort and convenience to guests in a friendly atmosphere that can meet the various standards of astute travellers from any background. Royal Hotel is very well-known among independent travellers.
Pls contact us for more detail