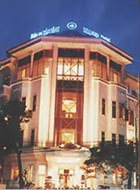 HOA BINH
Price :
From 1.270.000 VND
Star :

Address :
No 27 Ly Thuong Kiet str.
Conveniently located in the heart of Hanoi, the Hoa Binh Hotel offers you much more than a three star hotel. Erected in 1926 with the name "Le Splendide" the Hotel building is one of the finest architectural wonders that have been preserved from the past.

Renovated with modern amenities and majestic ceiling and windows is what you will receive at Hoa Binh Hotel. Friendly and attentive service attentive services the Hoa Binh Hotel is reliable address for both business and leisure travellers.

Hoa Binh Hotel is located in the French quarter centre of Hanoi, not so far from famous Hoan Kiem lake. Government offices, banks, the business center and tourist spots are all within easy reach.