Dau Pagoda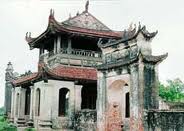 The Dau Pagoda, also known as Phap Van, Dieu Ung or Co Chau, is located in Thanh Khuong commune, Thuan Thanh district, the northern province of Bac Ninh.
The pagoda is at the centre of the prominent historical and cultural sites in northern Bac Ninh Province: the Luy Lau ancient citadel, Si Nhiep temple, and a system of pagodas, temples, villas, roads, markets, tombs, brick and pottery kilns - the evidence of a historical period tens of centuries before Christ.

This place was the capital of Giao Chi district, which was then called Giao Chau: the political, economic, cultural centre of Vietnam.

Materials and antiques left at the Dau Pagoda, especially a wood block made around 1752 years ago, and research on the history of Vietnamese Buddhism (which appeared in the country around 1,800 years ago), confirm that the Dau Pagoda is the one of the oldest Vietnamese Buddhist pagoadas.

Around 1,800 years ago, Indian monks, typically Khau Da La, came to the Dau area or Luy Lau to carry out missionary work and established the Luy Lau Buddhism centre, the first Buddhism centre in Vietnam.

Pagodas were built near citadels, palaces, markets and along the streets of Luy Lau, and the Dau Pagoda was one of them. This pagoda became the centre of a branch of Buddhism, and many veteran monks from China and India went there to research, compile and translate prayers and train monks.

Under the Ly and Tran dynasties, the Dau Pagoda was repaired and expanded. Kings and mandarins often visited the pagoda.

The Dau Pagoda's festival is held on the 8th of lunar April and is one of the largest Buddhism festivals in the northern plains and midlands.

Experiencing historical ups and downs, citadels, palaces, and temples of Luy Lau have been destroyed, but the Dau Pagoda still exists.