The 160-year-old pagoda on Cham Island (10/06/2019)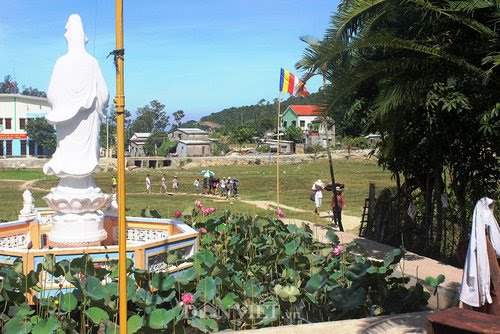 The Hai Tang Pagoda is a must-see for visitors to the Chàm Islands near Hoi An in central Viet Nam.
The 160-year-old pagoda, built in 1758, has undergone many restorations and relocations following damage due to storms.

It has its back to the mountains and overlooks a small valley which has the only rice paddy on Cù Lao Cham or Cham Isle.

Cham Isle, 12 miles off the coast of Hoi An in Quang Nam Province, contains seven islets which form the Cù Lao Chàm Marine Protected Area, a biosphere reserve recognized by UNESCO.

The pagoda worships the Buddha as well as the gods of the fishermen on the island. In the middle of the altar is the Three Jewels, and behind it an idol of the Buddha sitting on a lotus.

A large bell and many wooden objects can be found in the pagoda.There is also an ancient bell with a dragon figurine, a popular icon of the Early Le Dynasty (1428- 1527), indicating that it was made before the pagoda was built.