Royal Train (Hanoi- Laocai)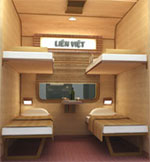 To serve tourist requirements, the Royal Train is also part of a regular train with 2 carriages in SP1 and SP2 which offers A/ C, soft-sleepers and clean four-berth cabins. You will be provided with one bottle of water, a small snack and a napkin
Emergency, please call: +84 1692886666

Train Information
The Ha Noi-Lao Cai tourist trains run nightly, departing from Ha Noi Train Station B (behind 120 Le Duan Street). The following trains from Ha Noi to Lao Cai (SP1, SP7, LC1, LC3; AM: LC5) and from Lao Cai to Ha Noi (PM: SP2, SP8, LC2, LC4; AM: LC 6) daily. The daytime trainsets offer only hard seats, whereas Travelers enjoy soft-sleepers, air-conditioned, four-berth cabins on the night trains.
Sapa Tourist Carriages


Victoria Orient Express Carriage

This is the best tourist carriage in term of comfort and luxury. It features superior 4 berth cabins and deluxe 2 berths. They, however, offer only this ticket with the combination of their Victoria Sapa hotel. They are launching a big summer deal with train ticket plus hotel.


Tulico Carriage
Tulico train offers comfortable, air-conditioned soft sleepers. While this is not a luxurious train, it offers good alternative transportation to Sa Pa from Ha Noi. It has soft sleepers, A/C and four-berth cabins. You are provided with one bottle of water, a small snack and a napkin.


Ratraco Carriage
In the LC5 and LC6, there are Victoria Cabins, Tulico Cabins, Friendly Cabins, and Ratraco Cabins. All of these are alternatives for Travellers to Sa Pa from Ha Noi. Ratraco train is one of the best trains to Sa Pa with wooden cabins.


Friendly Carriage
Friendly train, like the Tulico train, is not a separate train, but offers soft sleepers, A/C and clean four-berth cabins in 2 carriages which go with local trains (LC5 and LC6) between Ha Noi and Lao Cai. You are provided with one bottle of water, a small snack and a napkin.


Livitrans Carriage
To serve tourist requirements, the Livitrans train is also part of a regular train with 2 carriages in SP7 and SP8 which offers A/ C, soft-sleepers and clean four-berth cabins.


TSC Carriage
The TSC Express train is wooden carriage, soft sleeper A.C cabin with soft 4 berths and two toilet at either ends. Each berth is equipped with individual reading lights, baggage storage and spacious trunk for suite case and hand luggage. The train provide also water and cold tower.


Fansipan Express Carriage
The brand new Fansipan Express train has just been introduced to operate routing Hanoi - Lao Cai - Hanoi with 4 fully decorated carriages with high standard soft sleepers with airconditioning wooden cabins. Each berth is equipped with reading lights, baggage storage, flower, mineral water and napkin.


King Express Carriage
New generation of tourist carriage runs Hanoi-Laocai-Hanoi, sister carriage with Fansipan Express. King Express train features Deluxe (4 berths).


Et Pumpkin Carriage
There are two kinds to feature on this carriage: the first called 'deluxe' wooden panelled cabins connect with SP1 and SP2 (Hanoi-Laocai-Hanoi) and the second is 'superior' croned wooden cabin. We advise you to take all the real wooden panelled cabins.
More on transfer Lao Cai station - Sapa
The Ha Noi - Lao Cai train stops at Lao Cai Station, some 40 kilometres from Sapa and stops at Sapa's main Post Office (Buu Dien). Each way cost about VND30,000-35,000.

The tourist bus back to Lao Cai leaves from outside Sapa's church, but it usually will pick you up at your hotel - inquire with the hotel staff for getting a bus ticket back to Lao Cai Station.

Train Fare (Pls contact us for best price)
Train
Class
Cost (VND)/way (return is doubled price)


TSC Carriage
First Class with wooden cabin - 4 berths
with SP1 & SP2
-
First Class with wooden cabin - 4 berths
with SP3 & SP4
-
Friendly Carriage
First Class with wooden cabin - 4 berths
-
Tulico Carriage
VIP Class - 2 berths (only 1 VIP available)
-
First Class with wooden cabin - 4 berths
-
Ratraco Carriage
First Class with wooden cabin - 4 berths
-
Livitrans Carriage
VIP Class - 2 berths (only 1 VIP available)
-
First Class with wooden cabin - 4 berths
-
King Express
First Class with wooden cabin - 4 berths
-
Fansipan Express
First Class with wooden cabin - 4 berths
-
Et Pumpkin
First Class with wooden cabin - 4 berths
-
25% off on adult's rates for children between 5 year and 12 year old for Fansipan Express Carriage only
Free of charge for children under 5 year old sharing parent's existing berths for all tourist carriages.

Special note: Since there are only two VIP cabins on Tulico and Livitrans so these cabins are often full quickly. You will be normally confirmed under either private 4 berths or private 2 berths with other two foldable and they are not real VIP. Please make sure this when you received confirmation from us to avoid confusion and frustration later.

Tourist train time-table (Pls contact us for more detail)
Departure

Destination

Station

Departure time

Station

Arrival time +1
(the next day)

SP1/ Tulico, Friendly,
Ratraco, TSC, Fansipan, King Express, Et Pumpkin, TSC

Hanoi

21.15

Lao Cai

05.20

SP2/ Tulico, Friendly,
Ratraco, TSC, Fansipan, King Express, Et Pumpkin, TSC

Lao Cai

20.20

Hanoi

04.35

SP3/TSC
Hanoi
21.50
Lao Cai
06.15
SP4/TSC
Lao Cai
21.00
Hanoi
05.10
SP7/Livitrans
Hanoi
20.40
Lao Cai
05.00
SP8/Livitrans
Lao Cai
19.30
Hanoi
04.30
Top
Related Useful Information